AFTERMATH: Baltimore City Fire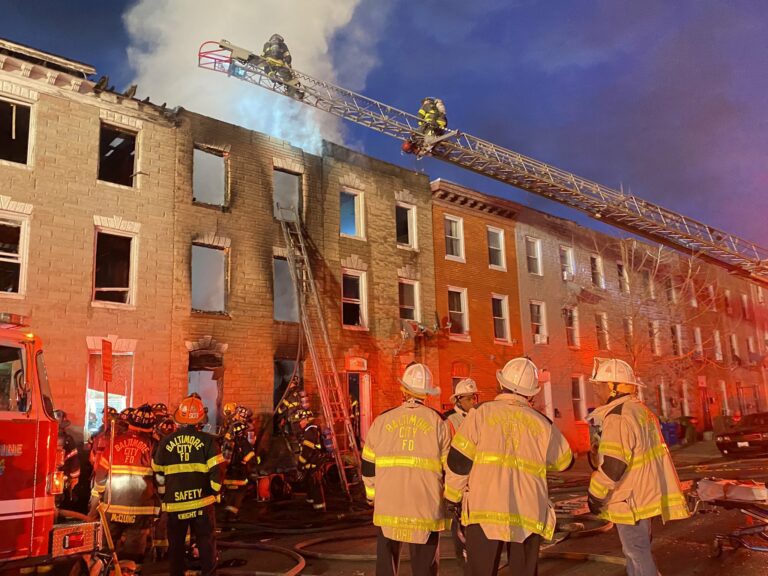 Reported: 3 Firefighters Killed, 1 in critical condition.
Approximately 06:00 hours on Monday 1/24/22., Baltimore City Fire responded to a two-alarm vacant row-home dwelling fire at 201 S Stricker St. While an aggressive interior attack was underway, a collapse occurred. 4 members required extensive extrication as they were buried under mounds of debris & structural members.
3 members identified as succumbed to injuries sustained in the collapse are: Lt Paul Butrim, FFPM Kelsey Sadler & FFPM Kenneth Lacayo. A 4th firefighter remains in critical condition.
At some point, Baltimore City Fire Chief Niles Ford said, a partial collapse occurred, trapping four firefighters inside. Ford said one firefighter was immediately rescued and two more were removed within an hour. Crews worked to extricate a fourth firefighter who was still trapped underneath the rubble left behind by the collapse.
"This is a gut-wrenching tragedy for our city, the Baltimore City Fire Department, and most importantly the families of our firefighters,"
Mayor Brandon Scott said.
"There are no words to describe the pain and the severity of the losses we have suffered today."
Read more here.
The brothers of New York City will stand shoulder to shoulder with Baltimore City Fire as they lay their fallen members to rest.
(Sources: Ava-joye Burnett/CBS Baltimore Photo: Twitter @BaltimoreFire)