FDNY 9th Battalion welcomes Army SSG David Bellavia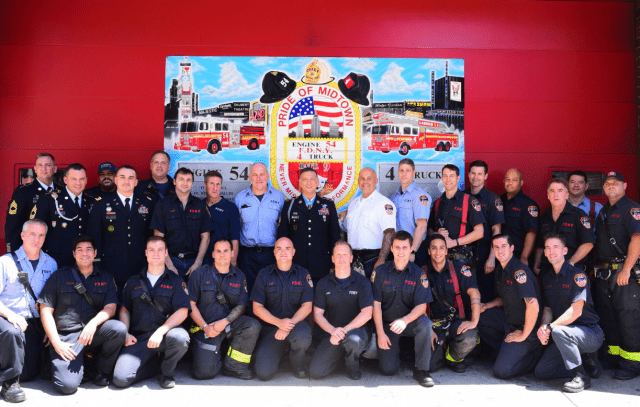 Monday July 1st, the #FDNY 9th Battalion companies; Engine 54, Ladder 4, Engine 23, Engine 40 & Ladder 35 along with Chief of Department Sudnik & Manhattan Boro Commander Chief Ajello welcomed Medal of Honor recipient US Army Staff Sergeant David Bellavia for lunch.
The actions for which Bellavia earned a Silver Star took place on his 29th birthday. As a member of Company A, Task Force 2-2, 1st Infantry Division, his platoon was assigned during Operation Phantom Fury to clear a block of twelve buildings from which insurgents were firing on American forces.
The platoon began searching house-to-house. At the tenth house, Bellavia fatally shot an insurgent preparing to load a rocket-propelled grenade. A second insurgent fired at him, and Bellavia wounded him in the shoulder. When Staff Sergeant Bellavia entered a bedroom, the wounded insurgent followed, forcing Bellavia to kill him.
When another insurgent began firing from upstairs, Bellavia returned fire and killed him. A fourth insurgent then jumped out of a closet in the bedroom, yelling and firing his weapon as he leaped over a bed trying to reach Bellavia. The insurgent tripped and Bellavia wounded him. Bellavia chased the insurgent when he ran upstairs. He followed the wounded insurgent's bloody footprints to a room on the left and threw in a fragmentation grenade.
Upon entering the room, Bellavia discovered it was filled with propane tanks and plastic explosives. He did not fire his weapon for fear of setting off an explosion and instead then engaged in hand-to-hand combat with the insurgent, which led to Bellavia killing the insurgent by stabbing him in the collarbone.