FDNY's Bravest makes supreme sacrifice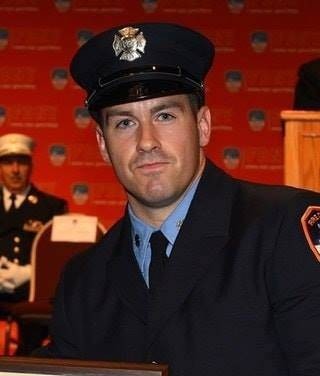 When Ladder Co. 170 arrived at the scene of a car crash on the Belt Parkway Sunday night, the firefighters immediately ran toward the crumpled remains of an SUV on the opposite side.
As the FDNY's Bravest crossed over a pair of Jersey barriers separated by a 3-foot gap, the unthinkable happened.
"I just heard, 'Oh, my God! Oh, my God! A firefighter fell, he fell through, he fell through,' " car-crash victim Travis Simms .
Firefighter Steven Pollard, 30, fell through the space dividing the eastbound and westbound lanes on the parkway's overpass bridge and plummeted 52 feet to the ground.
He died a short time later at Kings County Hospital.
Tragically, Pollard may not even have known there was a gap, a fire source told The Post.
"Usually, if it looks like a bad accident, you step over the Jersey barrier," the source lamented.
"I guess on the bridge it wasn't connected. We take all the precautions we can — and this guy gets killed stepping over a Jersey barrier."
The FDNY would not comment on what specifically went wrong and is "still in the midst of a safety investigation," according to department officials.
By the time Pollard fell, four or five of his colleagues had reached Simms. All but two of them peeled off to go aid their fallen comrade.
"You know, this is not your fault, this is not your fault," a remaining firefighter said, according to Simms.
But that didn't ease the pain:
"I just immediately felt guilty," Simms said. His guilt deepened when he learned while being treated that Pollard had died trying to save him.
"I couldn't control my emotions," said Simms, a father of 3-year-old twins. "Pollard, he's my hero. I send my prayers, my condolences to his family. I could only imagine what they're going through."
In a twist, Pollard and Simms worked together for JetBlue on the tarmac at JFK Airport.
"When I seen the photo, I said, 'This guy looks familiar,' and it just made the situation worse," Simms said.
Simms needed seven stitches in his finger and was diagnosed with a bruised rib. A man in another car was also treated for minor injuries.
While Simms and Pollard were being worked on at separate hospitals, Mayor de Blasio was paying his respects to the tragic Bravest.
He arrived at Kings County Hospital at 12:05 a.m. Monday and stayed until 1:45 a.m., according to a spokesman said
"To see this good young man there, to see him there with his family around him, it was extraordinarily painful and I felt so much for this family," de Blasio said at an unrelated press conference Monday.
He ordered flags in the city to fly at half-staff Monday in Pollard's honor.
"It's just really sad," said Ginger Olsen, 47, as she dropped off a bouquet of white flowers outside Ladder Co. 170 in Canarsie Monday morning. "He was trying to help two people and he died. It's horrible."
Dozens of firefighters stood at attention Monday afternoon as Pollard's flag-draped casket was carried from the Medical Examiner's Office into an FDNY ambulance for transport to the Marine Park Funeral Home.
His father and brother — retired and active firefighters, respectively — accompanied the body in the ambulance.
Al­though funeral information has not been announced, Simms hopes to pay his respects when the service is held.
"I have to tell to him, 'Thank you,' say my final goodbye," Simms said. "Because at the end of the day, he made the ultimate sacrifice to make sure that I was all right."
Meanwhile, firefighters in a bucket truck hanged black bunting on Pollard's Ladder 170/Engine 257 station house in Canarsie, while mourners filled the sidewalks below with candles and flowers.
As Pollard's family, friends and colleagues struggle to cope, officials are trying to determine what exactly went wrong.
"DOT is working closely with the FDNY to investigate the circumstances of this tragic incident," a Department of Transportation spokesperson said. "We extend our deepest condolences to Firefighter Pollard's family and colleagues."
The bridge from which he fell is still under construction. DOT wouldn't say whether the gap will remain when the work is done.
The agency broke ground on the $263 million span as a replacement for the adjacent Mill Basin drawbridge in 2015 and diverted traffic onto the new span in 2017, according to officials.
The city plans to finish the new bridge and demolish the old one by the end of the year.