Fire Dept. Christmas Parades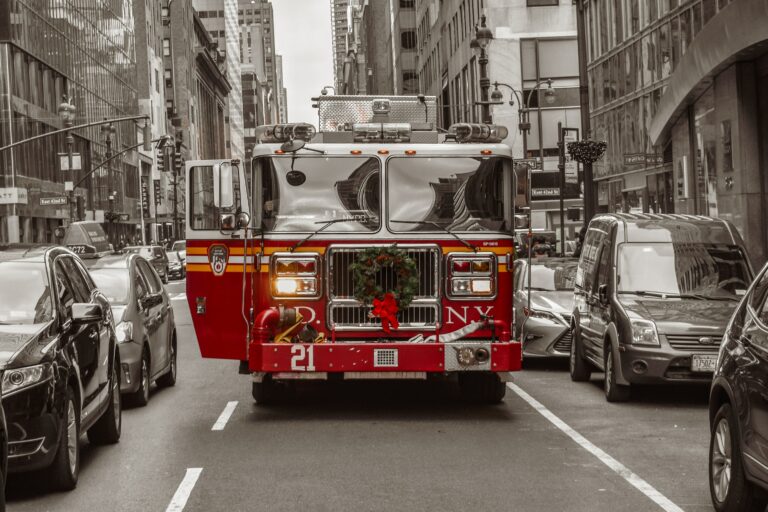 It's the most wonderful time of the year! In December, it has become tradition for Fire Departments on Long Island to have their annual parades. Some departments keep it small while others decorate their entire fleet. It's a lot of work to make sure all of the decorations are working, and it also takes a lot of work to figure out parade routes, standby companies, and getting the word out to the community. One thing about these parades though is that as fun as it is for us firefighters, it's an experience of a lifetime for our neighbors. Let's talk about what these parades actually mean for everyone involved.
From the firefighter's perspective, it's a great way to break up the monotony of the day in and day out things we do. It's a day where department comradery is at its highest regardless of any internal woes. It gives us a chance to bond with our companies and fellow department members, and to enjoy a day out without the worries of holiday craziness. It also gives us a feeling of pride in what we do.
The most important part of these parades though is what it gives to our community. For the most part, the people within our town already love us. They know that we're always at the ready to help them when they call. But when we decorate our rigs and parade them through the town, it does something that we may not notice. Just like us, it gives the community a sense of joy. It also takes their stress away from the holiday rush, and gives them a chance to enjoy what this season is all about. From a viewer's perspective, it almost makes you feel like a kid again.
Now look at it from a child's point of view. Children are always in awe when they see a fire truck. They're taught that the very people inside of the fire trucks are good people. They're also in awe when they see Santa Claus. Now here we come with our fire trucks that also have Santa waving to them, and they're completely filled with shock and excitement. That's what it's all about. Parents seeing their kids filled with such joy is exactly what this time of year is meant for.
All in all, it's the time of year that most of us look forward to. On top of the hard work we do all year round, we get to finish it off by bringing joy and lifting the spirits of families in our community we so proudly serve. On the other end of this is the fact that it's great PR for our departments. The best part of all is that people will never forget this experience with their loved ones that their local fire department created. Does your Fire Department host an annual holiday parade? If so, please share your pictures and stories in the comment section!
Find out about all alarms across NYC and Long Island on the minute with the NYC Fire Wire App.
We have also covered incidents across the USA and even internationally! Make the NYC Fire Wire App your go-to for all emergency news. Turn on notifications to hear about incidents on the minute!
DOWNLOAD TODAY!
Select your operating system to download now:
Learn more about the app here.
Follow Us!