INSIDE THE FDNY: NEWS, INCIDENTS AND EVENTS FROM THE BIG APPLE
News, History, Events & Incidents of the #FDNY. This page isn't associated with the FDNY (Fire Department City of New York) in an official capacity. All members views are their own & do not reflect the City of New York or FDNY as an organization.
"I have no ambition in this world but one, and that is to be a firefighter.The position may, in the eyes of some, appear to be a lowly one; but we who know the work which the firefighter has to do believe that his is a noble calling."
-Chief Edward F. Croker, FDNY circa 1910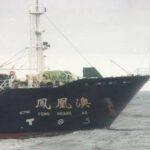 From the US Coast Guard: NEW YORK — The U.S. Coast Guard and Fire Department of the City of New York (FDNY) Special Operations Command firefighters and Rescue Paramedics conducted a joint safety examination of a disabled 479-foot asphalt tanker Monday afternoon after a fire broke out in its engine room while underway in the Atlantic…