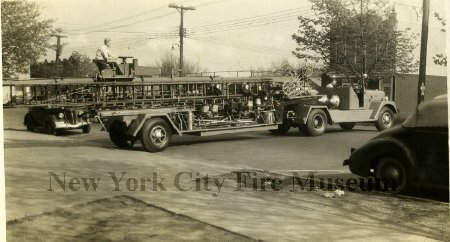 FF James P Smith, Engine 17. February 4th, 1885
Box 64, 58 Park Place Manhattan.
FF Smith was operating on a ladder helping with a charged hose line. The nozzle was operating into a 5th floor window when it slipped from the grasp of the men above him. Fireman Smith, being in the center of the ladder, was knocked from the ladder & he fell to the sidewalk. He died immediately, landing on his head. He was 27 years old.
FF John J McConnell, Engine 4 & FF Thomas P Eglinton, Ladder 10. February 4th, 1908
Box 84- 43 Worth Street, Manhattan
Firemen McConnell & Eglinton were killed when the 2nd & 3rd floors of 43 Worth Street collapsed, carrying 14 firemen down with them in this 3 alarm fire. Engine 4 was operating on the 3rd floor & Ladder 10 was on the 2nd floor. The fire had started around 4pm on the 3rd floor. A heavy safe located in the front part of the 3rd floor went crashing into the basement around 540pm. Both firemen killed were not dug out & removed until after midnight. McConnell reported to the fire from his meal break. He returned to the firehouse to find his company out & then went to the fire. He removed his helmet & coat from the hose wagon & followed the hose from his engine up to the floor where his company was working. As he entered the 3rd floor, the floor broke under the weight of the heavy safe.
McConnell's body was found crushed & burned. He was 33 years old. Eglinton's body was found later & was not crushe dor burned. He landed in a lean-to collapse in the rear of the building. He tried to escape but the windows had bars on them & he was trapped. The fire was fought for some 30 hours in below-zero weather. When his body was found he was frozen to death. Eglinton was married & his wife was expecting their first child soon.
FF William E Schalle, E-16. February 4th, 1919
Box 422- 377 Fourth Avenue, Manhattan.
FF William Schalle was overcome by smoke while fighting a fire in the Standard Comb Company bldg at 1010am. He died the next day in the hospital.
FF John N Crosthwaite, Squad 2. February 4th, 1961
Box 2742- 1392 Franklin Ave. Bronx
FF Crosthwaite was critically injured when he was blown out of a 3rd floor window & landed on a picket fence. He was married & the father of an 8 month old girl.
Find out about all alarms across NYC and Long Island on the minute with the NYC Fire Wire App.
(Source: Photo: NYC Fire Museum)