Firefighter siblings to be promoted the same day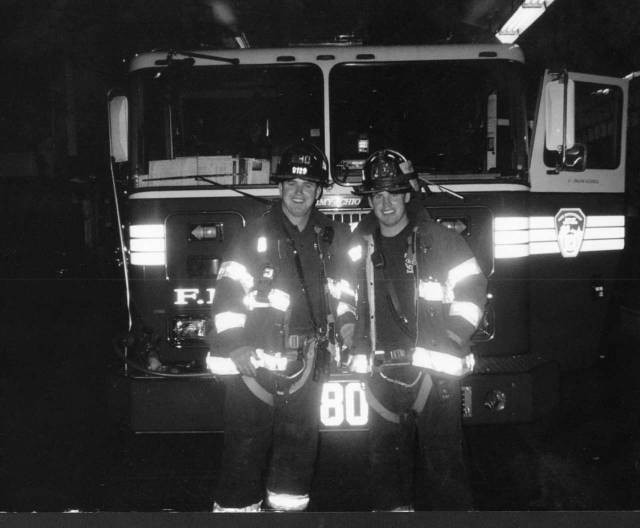 They're going up the FDNY ladder together.
Two bravest brothers from the Rockaways will both be promoted on Friday, less than a week after they marked the passing of a third sibling — a twin to one of them — who died on 9/11.
FDNY Lt. Sean Heeran will be bumped up to captain and younger brother Firefighter William (Billy) Heeran will be promoted to lieutenant during a special ceremony at the Christian Cultural Center in East New York, Brooklyn, on Friday.
"We took the test six months apart," Billy Heeran, 40, said Thursday. "We never thought we would get promoted together. Not in a million years."
In attendance will be their wives, children and proud pop Bernie Heeran, a retired FDNY firefighter.
Also on their minds will be the memory of their brother Charlie Heeran — Billy's twin brother — who died in the Twin Towers while working for Cantor Fitzgerald on 9/11. He was 23 years old.
Charlie, Billy and Sean were all working in the Financial District that fateful day, preparing to become the next wolves of Wall St., when terrorists slammed two jumbo jets into the World Trade Center.
Billy was working for small firm in Battery Park when his Bloomberg terminal flashed a news brief that a Cessna had struck the World Trade Center.
"I knew my brother was there, but he wasn't picking up his direct line," Billy remembered. "I called another guy there and he didn't pick up either. I ran over and got a block away before cops stopped me.
"You could see a huge hole in the building," he said. "You can tell it wasn't a Cessna."
Both Billy and Sean said watching the FDNY race to the towers and tirelessly sift through the rubble searching for survivors inspired them to become firefighters.
"That was definitely the deciding factor…losing my brother and seeing first-hand the companies responding to the Trade Center," said Billy, who had already taken the written exam and had deferred two calls to be put into a Fire academy class. "If 9/11 didn't happen I wouldn't have taken the job."
Sean, 43, said that after 9/11 the Wall St. lifestyle wasn't as appealing as it once was.
"When I watched (the firefighters) respond, I felt like (the FDNY) was something I had to do and I have no regrets," Sean Heeran said. "This job has been very good for me. On 9/11 I saw how our guys took care of each other and to this day we take care of each other."
That again proved true in 2012 after Hurricane Sandy blew threw the Rockaways, Sean said.
"After Sandy I had like 50 guys coming over and helping me empty out my basement," he said. "They were there to do whatever I needed."
Fire Commissioner Daniel Nigro will oversee 91 promotions on Friday. Promotees will be elevated to lieutenants, captains and chiefs — and the Rockaways will be well represented, Sean Heeran noted.
"A bunch of Rockaway guys are getting promoted," he said. "We're having a big party at the Knights of Columbus."
Billy joined the FDNY first, in May 2003. Sean followed suit that December, but moved up the ranks faster than his younger sibling.
Sean would often needle his brother to study and move up a pay grade, Billy said.
"He definitely pushed me to study," Billy said. "He would tell me, 'That was the reason they give you the books!'"
Sean said his brother never really wanted to put in for a promotion, but he encouraged him to "give it a shot."
"He was not the studying type, but he did some of the work and got a 93 (on the exam)," Sean said about his brother. "He's the smarter one in the family."
"It's going to be great that we're getting promoted together," Sean Heeran said. "Our mother just passed away recently and I know she is going to be looking down on us from heaven."
Also looking down will be Charlie — and he'll be laughing, Heeran said.
"He'll be saying, 'Who would have known my brothers would end up firefighters?'" he said. "I'm sure he's proud."