Retired Batt Chief celebrates his 100th birthday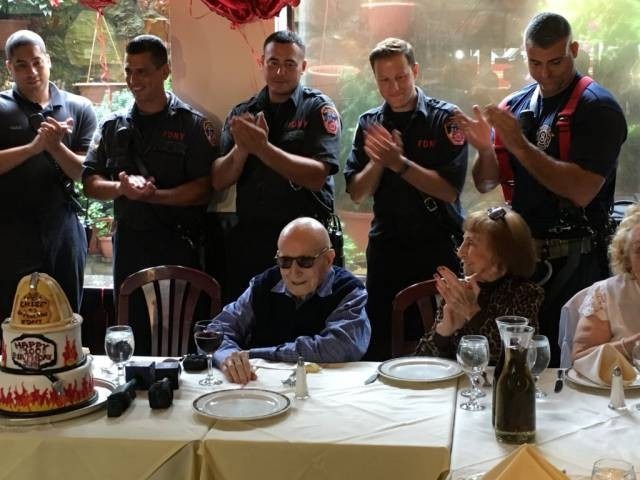 One day after the FDNY mourned the loss of its fallen brothers during the 9/11 attacks, members had a reason to celebrate. One of their own, former FDNY Chief John Nasta, celebrated his 100th birthday on Wednesday, Sept. 12 at Sofia Restaurant in Bay Ridge, surrounded by family, friends and members of the FDNY.
The smiling Brooklyn-born-and-raised centenarian spent 34 years with the FDNY and retired at the rank of battalion chief of FDNY Battalion 40 at Fourth Avenue and 51st Street in Brooklyn. At the time, he was the longest serving fire officer in FDNY history.
Nasta started his career with the FDNY in 1942, but after six months he was called to serve in the Navy during World War II. Because he had some training in the Fire Department, he was put in charge of training thousands of Navy recruits in fire safety while stationed in San Diego, before being sent to serve in Hawaii.
When the war ended he returned home to Brooklyn and began his 34-year career in the FDNY.
Nasta's beloved wife Alice died in 2005. But with the support of his sister Gloria, nieces, nephews and close friends, he still maintains an active lifestyle.
"He goes out to the restaurant every day," close friend Patricia McLaughlin Hite told this paper. "His normal meal is linguini and clam sauce and he loves salmon. And he always has a glass of red wine. He also loves his Italian cheesecake, espresso coffee and once a week he'll always have his favorite hamburger."
Additionally, Hite said that Nasta enjoys easy-listening and classical music and reads The New York Times every day. And it appears that longevity runs in the family. His sister Gloria Ward, who was by his side to celebrate his birthday, is 91 years young.
After a rousing rendition of "Happy Birthday," Nasta received a lifetime achievement recognition award from the FDNY commissioner's office.
Paul Mannix of the Uniformed Fire Officers Association (UFOA), presented Nasta with a plaque on behalf of the UFOA. "We're very happy that after the sad and solemn ceremonies yesterday we are able to celebrate a life today, especially a life that has reached 100 years," Mannix said. "Not only is he a member of the FDNY but he is a member of the greatest generation."