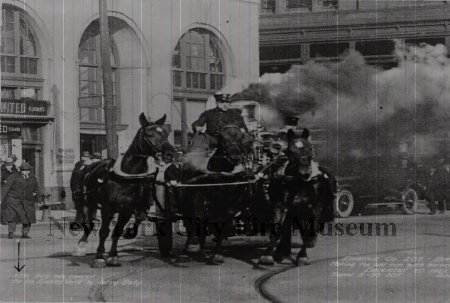 Lt James T Brown, Ladder 45. January 29th, 1922
Injured January 27th, 1922 – Died January 29th, 1922
Box 509 – Washington Bridge – Bronx
Lt James T Brown died 3 day safter receiving a crushing leg while responding to box 509 in the Bronx. The truck hit a trolley pole on the Washington Bridge, which crosses the Harlem River at 181 Street. He died in Fordham Hospital despite efforts of members of the Fire Department to save his life by giving their blood for transfusions.
FF Frank A Kober, Engine 278. January 29th, 1955
FF Kober died from a heart attack while on duty.
FF James S Hosey, Ladder 16. January 29th, 1967
Box 955, 5th Avenue & E 63rd Street
While operating at an explosion at the Yugoslav Embassy at East 63rd Street, Fireman James Hosey suffered a heart attack. He was reaching for an axe when he was stricken. The 440am explosion ripped the hinges from an iron gate and a panel of a metal door. Yugoslavia accused the United States & Canadian governments for the explosion because of it's stand against the war in Vietnam.
FF Chuck Jones III, L-165 – January 29, 2013. 9/11 illness.
Find out about all alarms across NYC and Long Island on the minute with the NYC Fire Wire App.