NYC Sweet Spot: Arthur Avenue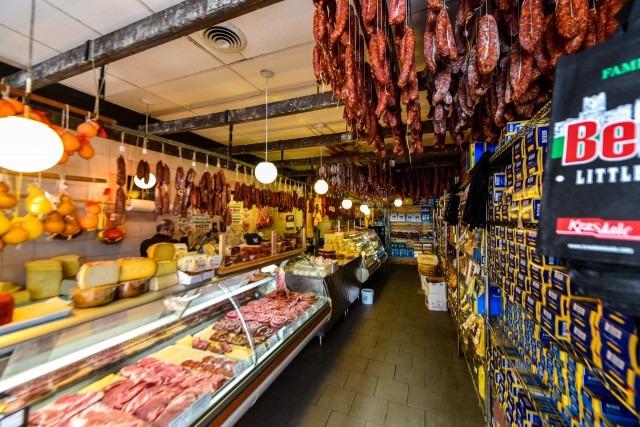 Everyone stops by a firehouse for information. Working in Times Square, I feel as if we double up as tour guides. Questions range from fire/safety related, directions, of course everyone wants to know about 9/11, and, who better to ask about food then those that work in the neighborhood. Being a NYC born and ran page, NYC Fire Wire decided to profile some of our "Sweet Spots" around the City, so when you come to NYC, you can see the real City outside of the bilboards in Times Square.
We will be starting this segment up in the Bronx; Arthur Ave known as Little Italy. Even Google Maps streetview of Arthur Ave & East 187 Street has Ladder 38 parked on the corner, probably shopping for their delishious meal. Our 1st stop in the Belmont neighborhood is Borgatti's at 632 East 187 Street across from Our Lady of Mount Carmel Church. Borgatti's has been in the neighborhood since 1935 and their reputation is 100% accurate… simply amazing. My 1st visit there was after a Saturday night tour, Sunday morning the traffic is light around 9am, I'd shoot up there and pick up some fresh pasta or a box of their amazing ravioli's to bring home to the family. But, the store isn't empty at 9am, as a matter of fact, it is not uncommon to find a line out the door, especially on the holidays. When you reach the front of the line, ask for a pound or how ever much pasta you need and they will give you a card with sizes. Choose the one that you want and right in front of you, they slide the sheet through the appropriate press, and wrap your finished product. Just remember when you get home, it's fresh pasta not boxed. Don't over cook it! And, of course, the ravioli's…. the item I get most from them. You really haven't had good ravioli's unless you had them fresh.
Next stop for the pasta meal is cheese. Casa Della Mozzarella! Another 187 Street store that has a line on to the sidewalk. Located at 604 East 187 Street corner of Arthur Avenue, this shop has some nice balls. Large, salted mozzarella balls made fresh throughout the day, it comes out warm and just melts in your mouth. I always buy more than I plan to use in the meal, you have to have extra to snack on, it brings everyone up to the level of delishiousness this meal will be at. Buy some parmeasan cheese as well, they will cut it off the block in front of you and grate it.