Sweet spot #2. Veniero's Pasticceria & Caffé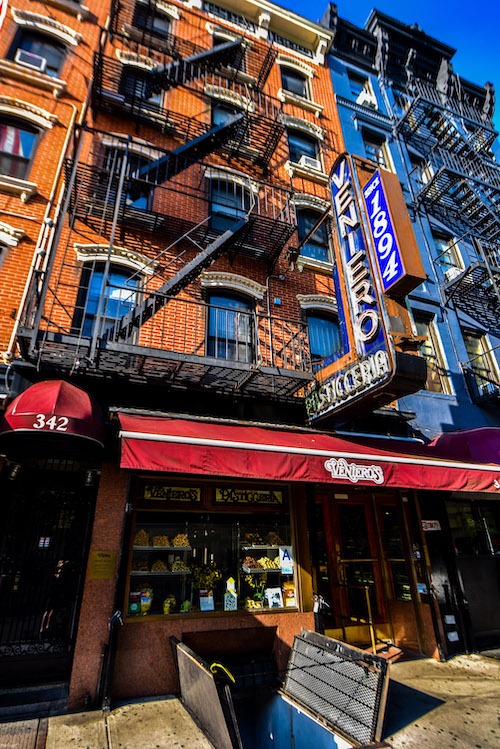 The 2nd edition of NYC Fire Wire's Sweet Spot series goes to the East Village in Manhattan. Veniero's Pasticceria & Cafe's products speak for itself. It's home is in Manhattan's East Village at 342 East 11 Street just off 1st Avenue and it has been there since it opened in 1894. That's over 100 years of producing mouth watering bites.
I made it my tradition to stop here during holiday's to bring home to the family, or even a stop to bring desert when taking details to other firehouses. There is so much to choose from and it's all delishious. Usually when going to other firehouses, I would pick up their macaroons, regular and dipped in chocolate. So fresh and chewy, you can't just have 1 so make sure you get enough! My first cake from here was their Italian Cheesecake. This isn't like traditional cheesecake because it is made from Ricotta cheese. It's lighter than regular cheesecake but boy, oh so good. Another is their carrot cake. Still by-far the best I have ever had.
Want to give it a try for the holiday's? Well, we can assure you one thing, you will not be disappointed. Review the menu before you get there, there will be a line and it usually moves well when people know what they came for. You can call ahead to save time. Otherwise, take a number and stand in line. You can special order cakes for events or just stop in for coffee/tea. Featuring Veniero's as our Sweet Spot is a no brainer; we wish everyone could experience this – the history, family, tradition, and of course, the food. Whether your going to impress someone or just your belly, Veniero's is the place for it.