Engine 329 ATRV – Inside the new vehicle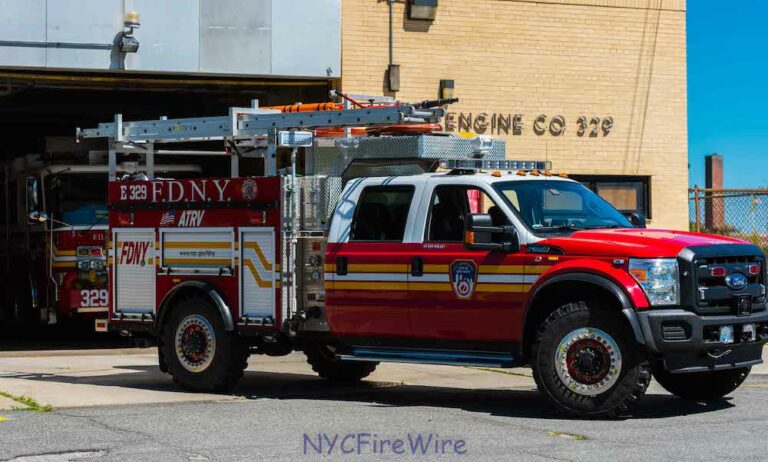 December 2015, Engine 329 in Rockaway Beach, Queens took delivery of their new 2nd piece, an All Terrain Response Vehicle (ATRV). This 2015 Ford F-550 pick-up truck was fitted with aftermarket compartments and added hose bed. The apparatus does not have pumping capabilities, it is basically a large manifold that will be supplied by an Engine Company.
It has 4-wheel drive capabilities along with a central tire inflation system allowing the operator to inflate/deflate the tires on the move without leaving the cab. It also has a winch that can be operated from front and rear of the vehicle.
Additional equipment:
30 lengths 3″ supply hose.
8 lenghts 2 1/2 hose
12 lengths 1 3/4 hose
Forcible entry tools
2 1/2 gallon water extinguisher
SCBA
Rescue Surfboard
Water Rescue equipment (Cold Water Rescue Suit, PFD's, 600′ Ocean Rescue Rope, Torpedo, Wetsuit with boots & fins, Binoculars, Bull horn)
CFR-D equipment
Stokes with floatation & Backboard
Indian Cans
24 ft portable ladder
Engine Company 329 calls Rockaway Beach their home. They are 1st due to Breezy Point, Marine Parkway Bridge, Floyd Bennett Field and Jacob Riis Park. It is Company policy to roll the ATRV whenever the Engine gets a run, and this proves helpful on numerous occations. Breezy Point has many walks, areas that the Engine can not reach that their ARTV will. The Company, under the command of Captain Cody, train regularly and are prepared for anything that comes their way whether on land or in the Ocean. We wish them the best of luck with the new apparatus.