Remembering Lt Carpluk Jr & FF Reilly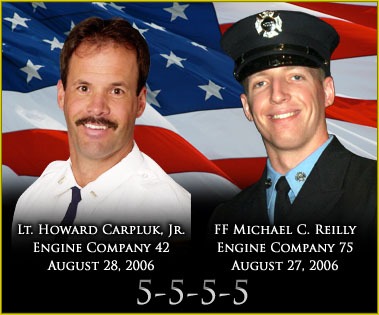 Sunday August 27th 2006, at 1230hrs, Bronx CO received a telephone alarm reporting a store fire at 1575 Walton Ave. Box 2797 was transmitted. Eng.42 transmitted the 10-75 at 1233hrs, heavy smoke venting from the front of a 99¢ Store, a 1 story class 3(non-fireproof) commercial 45×65. The store suffered severe damage 6 years ago (7/17/00) when it had a 3rd Alarm fire. Since then, it underwent extensive alteration that was not consistent with the architectural plans filed.
The fire originated on the 1st floor rear and quickly extended to the ceiling. Combustible stock ignited the Masonite ceiling which was nailed directly to the bottom of the roof joists. Due to the fire load, a 2nd alarm was quickly transmitted.
21 minutes after the arrival of FDNY units, the failure of a cellar column caused a V-Shaped collapse. This collapse took place without warning. A 3rd alarm was transmitted. 10 members fell into the collapse area. 4 members from Engine 92 were immediately removed by FAST. 6 remaining members were trapped in the collapse. TL-44 Can firefighter was extricated aprox 4 minutes. E-75 B/U Firefighter was extricated aproximately 43 minutes in. TL-44 Officer was extricated approximately 56 minutes. Battalion 17 Chief was extricated approximately 1 hour. Lt Howard Carpluk, E-75 Officer was extricated approximately 1 hour 21 minutes. FF Michael C Reilly, E-75 was extricated approximately 1 hour 41 minutes.
FF Michael C Reilly succumbed to his injuries that day. He was appointed to the FDNY on April 11th, 2006, only on the job for a few months.
Lt Howard J Carpluk Jr succumbed to his injuries 1 day later, August 28th, 2006. He was appointed to the FDNY August 2nd 1986, promoted to Lieutenant March 6th 1999 assigned to Engine 42. He was working PCOT in Engine 75 for this fire.