Deaths from 9/11 diseases will soon outnumber those lost on that fateful day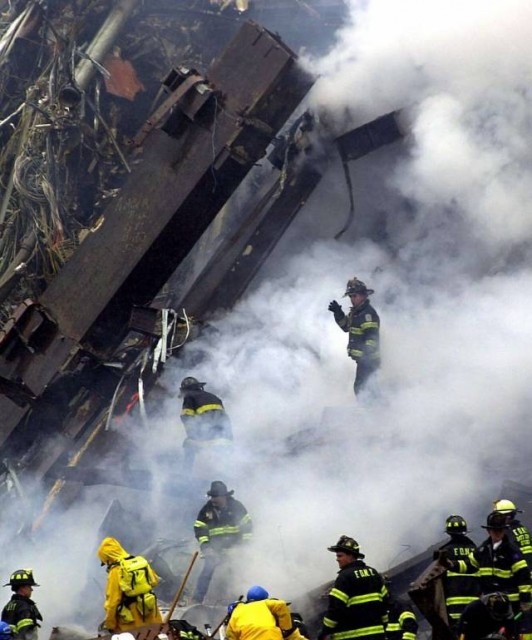 Seventeen years out from the Sept. 11, 2001, terrorist attacks, nearly 10,000 first responders and others who were in the World Trade Center area have been diagnosed with cancer. More than 2,000 deaths have been attributed to 9/11 illnesses. It will get worse. By the end of 2018, many expect that more people will have died from their toxic exposure from 9/11 than were killed on that terrible Tuesday.
"We're nervous," said Dr. Michael Crane, medical director of the World Trade Center Health Program Clinical Center of Excellence at Mount Sinai.
Robert Reeg of Stony Point, New York, knows the feeling. The retired Fire Department of New York firefighter was seriously injured in the South Tower collapse. In the last 17 years, he's seen fellow first responders who survived the attacks fall victim to the illnesses caused by the contaminants that were spewed all over.
"You lose track, there's so many of them," the 66-year-old said. As for his own health risks, given the growing incidents of cancer among 9/11 first responders, Reeg said he doesn't dwell on it. "It's at the back of your mind. But you can't let it control you."
The average age of a 9/11 first responder is now about 55. While many people face a cancer diagnosis as they age, the rate of some cancers among first responders is up to 30 percent higher than in the general population, Crane said.
The numbers demonstrate the continued loss:
In 2017, 23 current or former members of the New York City Police Department died of 9/11-related diseases. That's the same number of NYPD members that perished on Sept. 11, 2001.
The FDNY lost a stunning 343 members on Sept. 11, 2001. Since then, line-of-duty deaths linked to 9/11 are approaching 180, now well over half lost on the day of the attacks. So many have died since the attacks that last year, a new tablet had to be added to the Hall of Heroes at 1 Police Plaza to accommodate all the names of the fallen.
One FBI agent was reported killed in Sept. 11, 2001, attacks; as of this August, the FBI reports a death toll of 15 from cancers linked to toxic exposure during the subsequent investigation and cleanup.
According to John Feal, founder of the Feal Good Foundation that supports 9/11 rescue and recovery workers,there have been more losses so far this year – 163 – than in any year since he started tabulating them in 2008.
New Rochelle Fire Department Capt. Barry Nechis spent a month at Pier 94 working on logistics during the recovery effort. He worries about the range of exposure, from those who worked on The Pile, to the people who sifted through debris at Fresh Kills landfill on Staten Island, to the mechanics who worked on dust-laden trucks after they returned to communities that stepped up during the national crisis.
"Oh, it's not going to end," he said. Nechis is registered with the WTC Health Program and said he is "just being monitored."
So many risks
Specialists in occupational health like Crane can usually calculate what risks a worker faces in a standard workplace setting, depending on chemical exposure. "9/11 was the opposite," he said during an Aug. 26 interview. "Steel melting, every time (rescue and recovery workers) moved something, a puff of smoke. They didn't know what they were dealing with, didn't have the sort of adequate equipment to protect themselves."
Some 90,000 people have reported exposure to toxic chemicals — asbestos, burning jet fuel, burning computer parts, pulverized concrete and myriad other substances. "No one has ever codified or captured all the stuff that was released from that pile," Crane said. "It's an unknown exposure."
"I worry about everything. I literally worry about everything," Crane said.
There's been a somewhat expected progression in the kinds of disease seen among first responders. At first, Crane said, people suffered from irritative diseases such as asthma. "You were breathing the air, you were eating the particles."
It takes years, sometimes decades, for cancers to develop from environmental exposures. "We believe that is what's happening now," Crane said.
Many are sick for years; for others, it comes on fast.
Reeg recalled the loss of Jimmy Lanza, an FDNY member who helped pull 16 people out of the rubble from a collapsed stairwell on Sept. 11. Lanza, who led myriad charity efforts, was diagnosed with brain cancer in November 2016; he died in April 2017 at age 71.
Gone so quickly from 9/11, so long after 9/11.
The wide-ranging latency for cancers – the period between the exposure to a carcinogen and the diagnosis of cancer – adds to confusion in predicting what will happen, when, to an aging first-responder population.
Significantly higher rates of blood cancers, and now kidney cancer, are being diagnosed among first responders. When will the tide turn?
"I don't think we have reached 15 percent of the cancer we're going to see," said Dr. Ray Basri, an internist and Middletown, New York, volunteer firefighter who is also a professor of medicine at New York Medical College in Valhalla. "I really do think we're in the very early stages."
Finding the cancer link
As first responders sought help for respiratory diseases and other illnesses in the first few years after 9/11, the general consensus was that their exposure at ground zero was a possible factor, but not a clear determinant.
Basri, who was the first physician at the scene of the South Tower collapse, said that a 2-inch-thick "moon dust"covered the area. As the rescue and then recovery continued, that toxic dust was stirred up with every move. "The number of people exposed was huge."
It took a class-action suit, by White Plains attorney David Worby, to fill in the blanks about possible cancer risks from the ground zero cleanup. Worby started doing his own research when he couldn't find any.
"I went and wrote the medical paper with only Google support because no doctor was saying these guys had pre-existing exposures," Worby said in a 2016 interview. He said few bought into his theory at the time.
The skepticism back then was significant enough to stall the passage of the James Zadroga 9/11 Health And Compensation Act, initially introduced in 2006, until 2010. The legislation, which re-established a Victims Compensation Fund and set up health-care and health-tracking programs, first focused on respiratory ailments suffered by responders. By 2013, some 50 cancers were included in Zadroga coverage. In 2015, amid a new awareness of the ongoing health crisis facing first responders, the bill was extended through 2090.
Basri, who went back to ground zero on Sept. 13, 2001, said he decontaminated himself afterward. But others dragged that dust home. "It's plausible that there could be an extension to (other) people as well."
Future treatment
Medical studies are now finding information that could help shape future treatment. A recent study of FDNY members found precursors to multiple myeloma.
Crane said that health centers like the Mount Sinai program can offer more frequent screenings for things like lung, cervical and colon cancers for first responders, now that they better understand the risks. Radiologists can look for early markers of a tumor and track those cases closely. "We'll have guys with exposure come back earlier," Crane said.
The Mount Sinai WTC Program has been working with major cancer centers to develop testing protocols that better fit people at risk because of their environmental exposure. But, Crane said, doctors need "to balance early detection and over-diagnosis of disease."
The research among first responders also will impact cancer treatment in general. "The science of it is still developing," Crane said.