Mysterious man in Red Bandana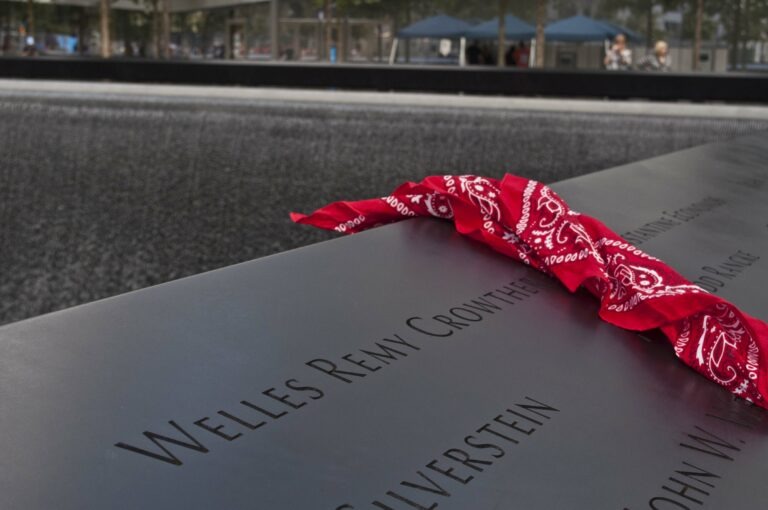 You have heard many stories about the heroic acts on 9/11, but did you hear about the mysterious man in the red bandana? Welles Crowther was working as an American Equities trader on 9/11/01 at the World Trade Center. Truth be told, the 24 year old wasn't looking forward to a desk job for the rest of his life. He had further dreams, and plenty of time to fulfill them. When he turned 16, Welles joined the Volunteer Fire Service, joining the footsteps of his father at Nyack Empire Hook & Ladder company.
At the age of 6, Welles' father gave him a red bandana which stayed with him through the years. It became his signature trademark, a link between father and son. While playing lacrosse at Boston College, Welles wore his bandana under his helmet. In 1999, he graduated with honors degree in economics, which led to his career at the World Trade Center; his office was on the 104th floor of the South Tower. At 9:03am on September 11th, 2001, United flight 175 struck the South Tower between floors 78 & 85. Welles called his mother at 9:12am and left a calm message assuring his family he was OK. He fought the smoke and flames down to the 78th floor sky lobby, where he found survivors. Crowther left his trading career in his office and his firefighting bloodlines took over. He was ready to do his job, the calling that was sent for him at a young age. In an authoritive voice, he directed ambulatory patients to the A stairway which he previously descended from his office. He used his red bandana to cover his nose and mouth, and was carrying a woman down 15 flights. Welles job wasn't done, knowing the danger his life was in, he put it aside and went back up to rescue more.
In May, the New York Times published accounts of 9/11 which Welles' parents were reading. 1 account stood out. Judy Wein, a survivor from the South Tower noted a mysterious man in a red bandana coming to the aide of numerous people. His parents knew immediately, they found what their son was doing before he died.
December 15th, 2006, Commissioner Scoppetta and Chief Cassano posthumously named Welles Crowther Honorary Firefighter with the FDNY. Following Welles' death, his family found a partially filled out application to take the test for the FDNY. Knowing it would be a huge pay cut, Welles' still planned to follow his dream.